How can we spread love in our own corners of the world? The answer is not only simple but diverse.
Here are 50 ways we can spread love and joy to those around us.
Pssst. If you'd like to learn how to attract love into your life, check our positive affirmations for love (opens in a new window).
1. Offer to Run Errands
You can call someone who is homebound and offer to run their errands. Sometimes people may not ask for help for some reason or other and reaching out to assist with grocery shopping or making a trip to the post office just might make their day.
2. Spread Love to Your Favorite Cause or Charity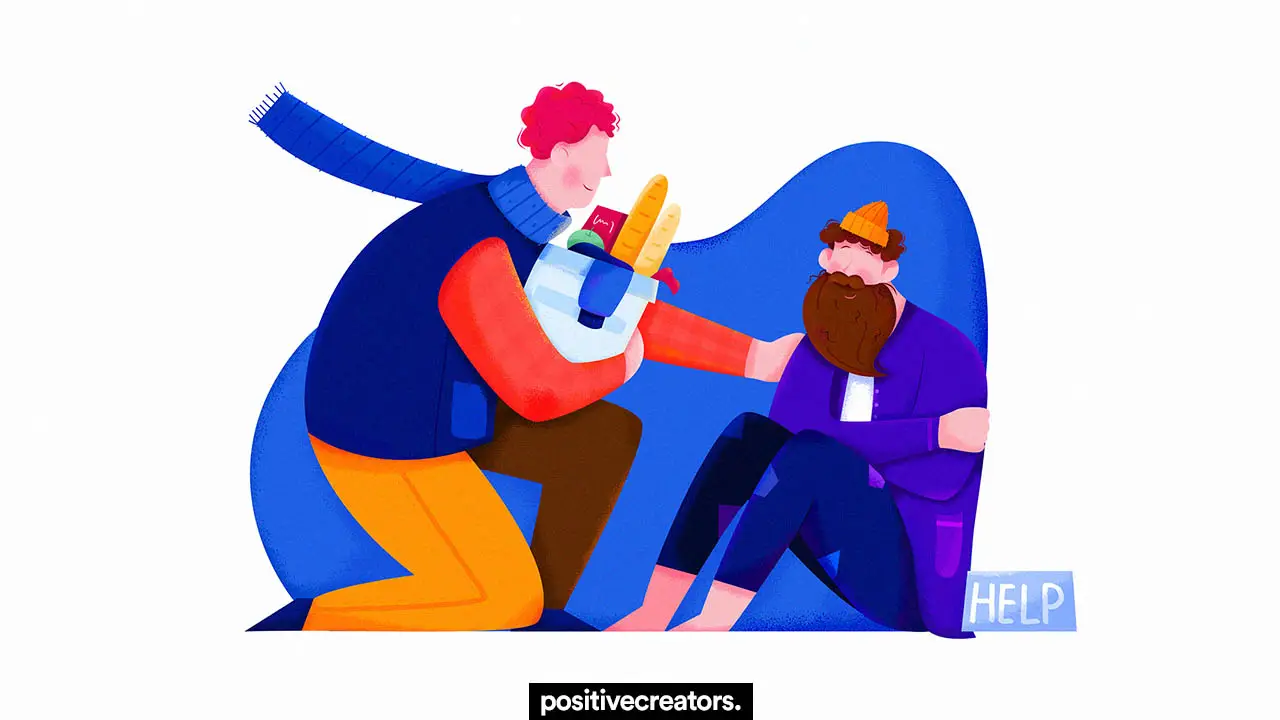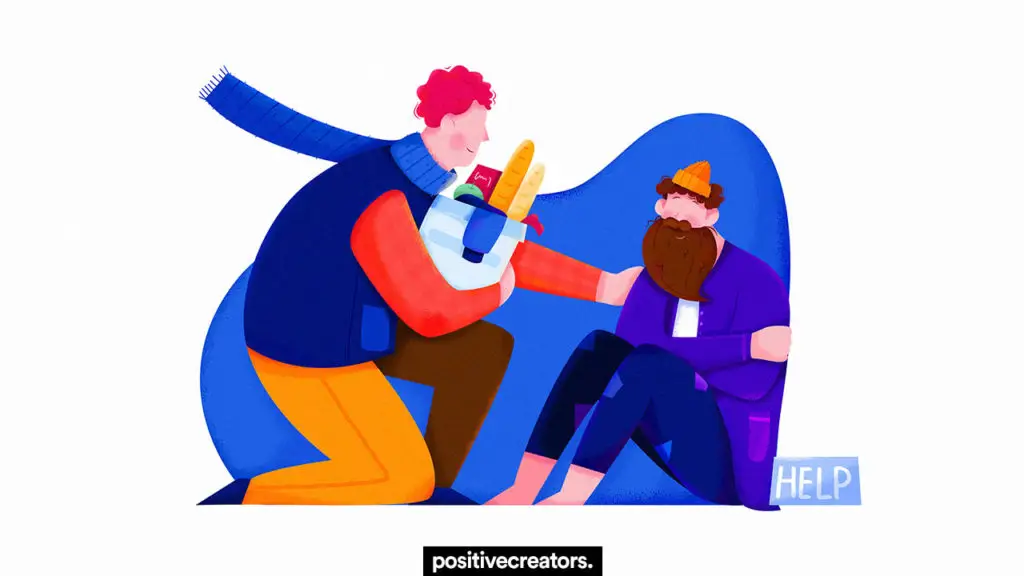 Giving of your time, talent, or treasure to an organization that speaks to your heart is a sure way to spread love around. Whether you're giving to a local homeless shelter or to the Red Cross, every little bit of volunteer time or donations are always needed.
3. Greet a Stranger
Have you ever had such a bad day that you feel that you're about to explode? Honestly, you're one of many who have had this experience, and a simple "Good morning" or "Hello" can be the best remedy for a person who's experiencing the blues.
4. Host a "Socially Distanced" Neighborhood Party
Having a block party seems out-of-the-question for the time being…or is it? Why not spread love throughout your neighborhood?
Each neighbor brings out his or her grill and patio table to the front driveway to hang out with the rest of the block—while maintaining a safe distance from each other. Thank you, Oscar Meyer!
5. Listen to a Child
Children thrive on attention and can always use a listening ear to talk, vent, ask questions (lots of questions), whatever the case may be. Working from home might pose a challenge to giving this kind of attention, but if you designate some Talk Time for your children, the day will flow more smoothly.
If you don't have kids, you can also spread love to a niece or nephew or your best friend's child. They'll appreciate it!
6. Listen to a Parent (or any other elder)
Whether a person is nine years old or ninety, having someone to talk to is very much appreciated. So take that break from working a give your parents, grandparents, or any other elderly person a call. You'd be surprised at how you'll spread love and receive more in return by listening to an elder.
7. Allow Someone to Pass You in Traffic
In the name of goodwill and safety, you can also spread love by allowing the seemingly stressed-out driver behind you to pass. To make the gesture go even further, you can offer a friendly smile and a wave to that person as they pass by in the next lane.
8. Leave a Positive Sticky Note on a Loved One's Windshield
If you know for sure, this person doesn't have a sensitive alarm on his/her vehicle, try leaving a short note on a conspicuous spot on the windshield wishing him/her a good day or thanking this person for what he/she has added to your life.
9. Give a Thank-you Card to an Essential Worker or Delivery Driver
When you think about it, essential workers and drivers keep our communities going. So, giving them a "thank you" in the form of a note or card along with a tip spreads love in such a way that they know their hard work—and risk—are greatly appreciated.
10. Call Someone just to Say Hello
Staying connected has never been more important and reaching out by phone just to say "hi" and check in shows someone that you really care. A few minutes of your time can go a long way to ward off loneliness.
Better yet, you can also keep up this habit post-quarantine.
11. Give a Gift Card to a Homeless Person
When helping those in need, one idea is to purchase some gift cards from a food franchise. Oftentimes, we all want to help homeless people who we encounter but aren't sure of how or if we're enabling an addiction.
(In other words, is cash a good idea?) So a meal or two is one of many ways to spread love to those who are trying to get back on their feet.
12. Complement Someone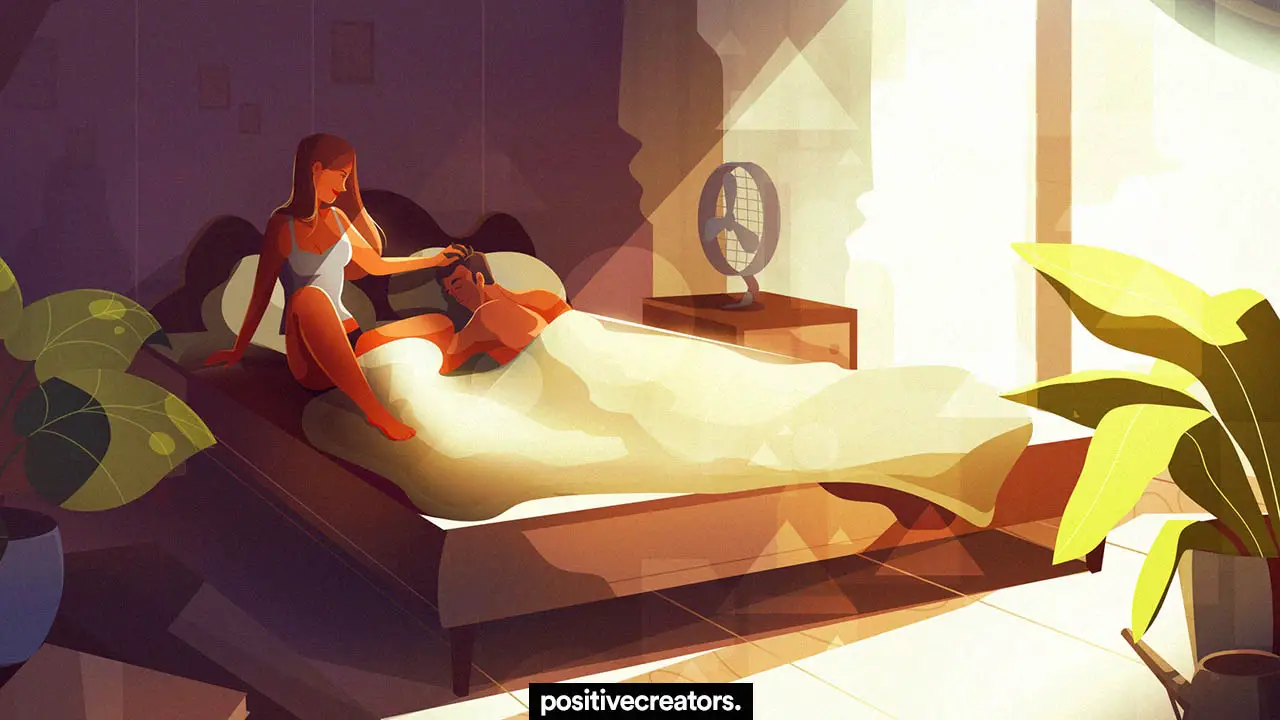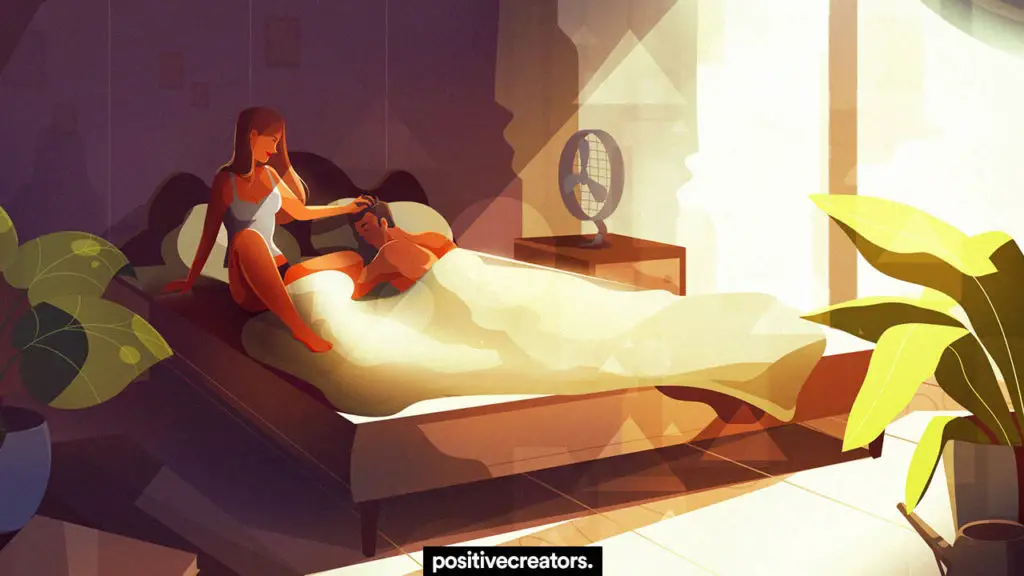 You can spread a whole lot of love and positivity when you pay a complement to a friend, relative, or a co-worker. It can be something as simple as appreciating their ideas during a meeting or telling them how their humor always boosts your mood.
13. Randomly Send a Gift or Flowers to a Relative or a Friend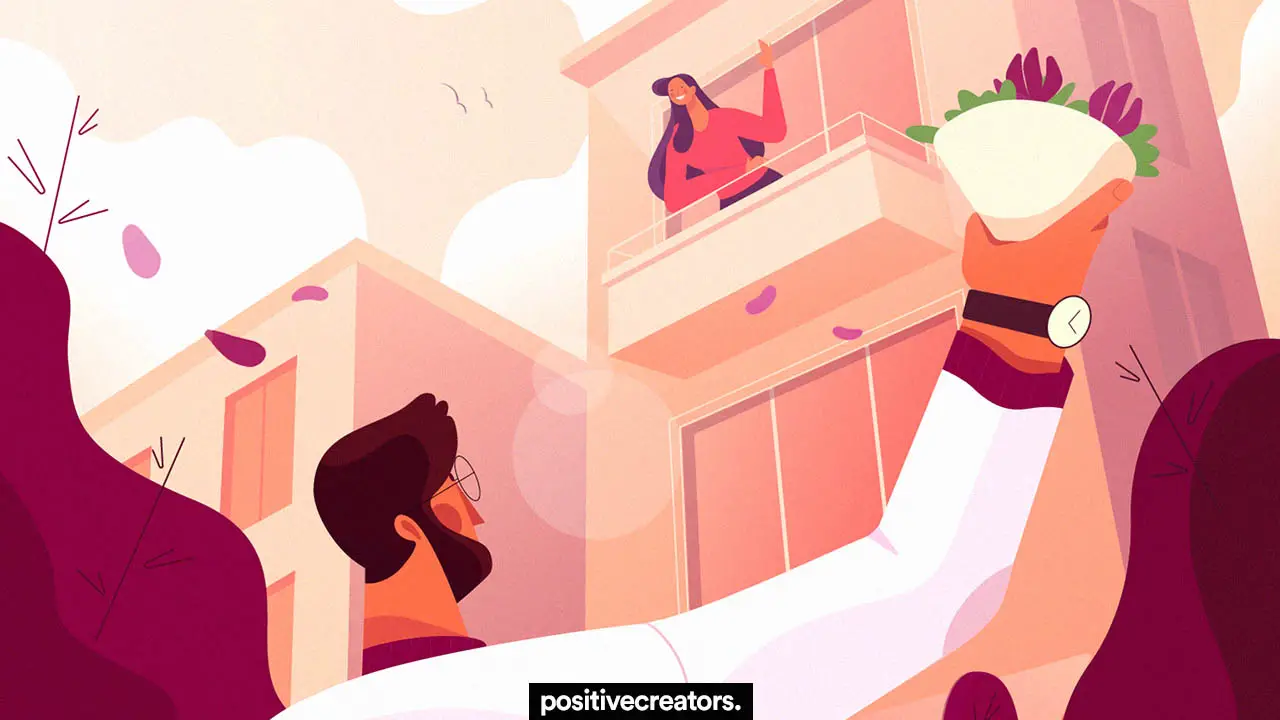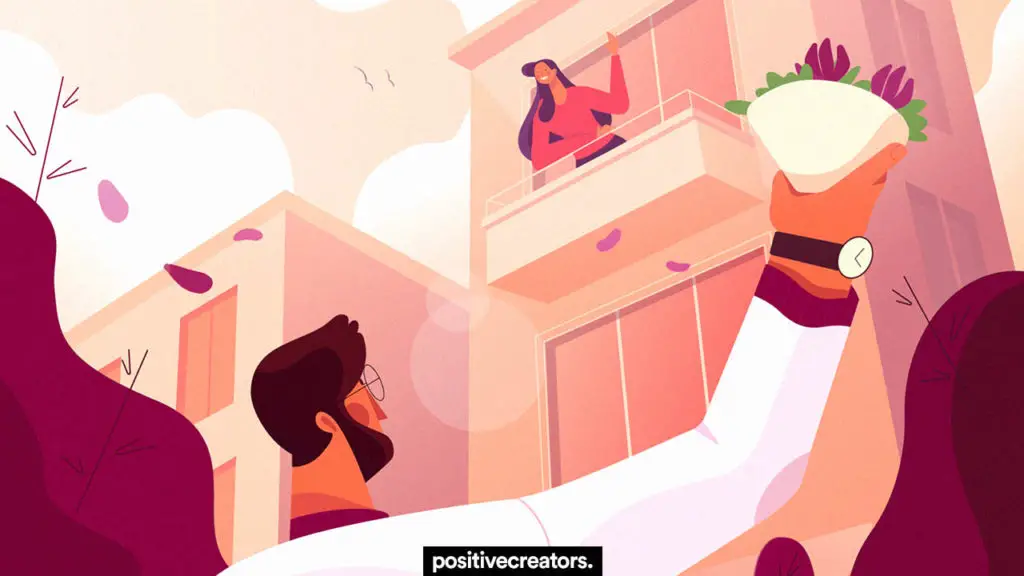 If you know of someone who loves surprises, then why not lift his/her spirits by sending a thoughtful gift or flowers? In between calls or emails, you will spread love through the element of surprise and let people know that someone is thinking of them.
14. Thank Your Co-workers for their Collaborative Efforts
Additionally, we can't take for granted all of the hard work that our colleagues invest into a goal that we share in common. Taking time to point out specific ways co-workers make the job easier will enhance the comradery that you share.
15. Spread Love with an Upbeat Message on your Social Media Page
Posting an encouraging message spreads love to a vast audience, and it's a nice change from some of the negativity that sometimes pops up on social media. But aside from an inspirational quote, you can also share your favorite recipe or some housekeeping hacks. Great advice is often appreciated.
16. Hold the Door Open for Someone
This gesture goes beyond mere etiquette. You're looking at possibly saving someone's sanity. Imagine the mom with small children who is trying to juggle groceries and keep her brood close by. Holding the door open would be a huge help!
17. Unplug during a Face-to-Face Conversation
Giving your loved one or colleague your undivided attention is one of the best ways to spread love both at home and anywhere else you might be. Plus, you're better able to retain the important details of a conversation when you're unplugged which is something else the other person would appreciate.
18. Silence your Phone during an Online Conversation
Likewise, when you're in the middle of an online call with family members or friends, they would also appreciate your full attention. This freedom from distraction would also make the call go more smoothly since you'll be better able to see who's talking.
19. Reach Out to Someone who Seems to be Having Difficulties
Self-isolating can get to a person after a while. Or even if someone can cautiously get out for a while, other factors, such as altered sleep cycles or worse, job loss, would definitely have an adverse effect.
Thus, you can reach out to your friends, family, and neighbors to make sure they have someone who is willing to listen and offer help where possible. This can make a big difference!
20. Introduce Yourself to the New Neighbors
It's not too old-fashioned to bake a tasty treat and take it over to a neighbor who has just moved in. Just about anyone would appreciate the thought and would welcome the opportunity to meet the family next door. Who knows? This introduction could be the start to a wonderful friendship.
21. Drop off Some Snacks to Hospital Personnel
These heroes endure an enormous amount of pressure with little in the ways of rest or sustenance to keep them going. Whether, you have pizzas delivered or some hardy snacks, you can spread love and appreciation to the hard-working personnel who are saving lives.
22. Spread Good News (as opposed to Gossip)
You can spread love and positive tidings by phone, email, social media, or whichever mode you prefer. Sharing inspirational stories or messages of appreciation and encouragement will bring more smiles to your community.
23. Drop off a Bag of Dog/Cat Food at the Local Animal Shelter
The various stages of shut-down orders have greatly affected animal shelters due to lack of adoptions and resources. They are in dire need of food for our four-legged friends, and you can spread love to both the personnel (some of whom contribute on their own) and to the cuddly creatures.
24. Buy Produce from your Local Farmers' Market
How can you spread love and contribute to the comeback of your local economy at the same time? You are in for a treat if you've never visited a nearby farmers' market.
The produce is always fresh and reasonably priced. Often, you can find other goods such as eggs, honey, and homemade cheese! Sounds like a healthy win-win shopping trip.
25. Surprise Your Spouse or Significant Other with Breakfast in Bed
On a morning (probably one that doesn't involve a hectic routine) when your main squeeze least expects it, you can whip up his/her favorite breakfast dish and a glass of juice and wake him/her up with the aroma of maple syrup. (Or Tabasco sauce if that's the preference)
26. At the Grocery Store, Allow the Person Behind You to Go Next
Have you ever noticed that lines seem to take a bit longer at the grocery store? However, you can help by allowing the person behind to step in front of you. This can help speed up the process for both customer and cashier, plus brighten their day.
27. Drop off a Batch of Cookies at your Local First Responders' Station
Ok, so you can also bake a cake or some lemon bars, but you'll bring a warm "thank you" to the men and women who also risk it all to keep their communities safe. You can also include a note or card along with the care package.
28. Support Local Small Businesses
There are currently many options to keep your local businesses going. Many establishments have moved to online platforms to sell their products while others still offer gift cards through their sites.
Whether you opt for shipping goods to your home or curbside pick-up, you're helping small business owners to keep their employees and stay afloat.
29. Send Thank-you Cards to Your Children's Teachers
You may have experienced a hard, fast adaptation to the work-from-home situation. And your children's teachers underwent a similar unexpected, unprecedented change as well—with technological grace.
They would love a short note thanking them for all the Zoom lessons and Google Classroom assignments especially since they had to acclimate to the technology rather quickly.
30. Offer Assistance with Yardwork or Maintenance to an Elderly Neighbor
Many elderly individuals or couples don't have family who lives in the same community. So, helping them with a few minor fix-its would be an invaluable gift. Furthermore, you're also checking in to make sure they have everything that they need since staying at home is vital to their wellbeing right now.
31. Invite your Spouse or Significant Other to Take a Walk with You
No one should ever have to exercise alone. So invite the one you love to take a walk with you around the vicinity or better yet, at a local trail. This habit not only allows for healthy physical activity but also some valuable communication time.
32. Create Get-well Cards to Deliver (or mail) to the Local Hospital
This can be a fun and creative activity for the whole family and a great opportunity to spread love and well-wishes for speedy healing. Depending on health regulations, you can deliver the cards at a front desk or mail them at a bulk rate.
33. Create Cards for Nursing Home Residents
Another way to spread love to the elderly can also involve the whole family. Again, you can gather around the dining table to create some uplifting cards. More than likely, you might have to utilize "snail mail" to deliver the cards, but the residents would enjoy messages of goodwill.
34. Offer to Mentor Someone at Work
Being the newbie at the workplace can be a challenge, but you can extend a warm welcome and much needed guidance to a recently hired co-worker. Sharing ideas and ensuring that training goes smoothly spreads love and productivity in your organization.
35. Lend a Good Book to Someone
A friend, acquaintance, or family member probably could use a change of direction in regard to passing the time. So why not recommend a great novel that you've recently read? Also, your buddy would appreciate borrowing something engaging to read.
36. Teach a Free Online Class on Your Favorite Hobby
Speaking of sharing and passing the hours in quarantine, you can offer to teach a class in your favorite via an online platform. Do you love to knit? Paint? Or cook?
Then you can email some folks who might be interested with the necessary login info. This is another fun way to stay connected, spread love, and teach a new skill.
37. Have a Family Board Game Night
You gotta love how Matthew McConaughey and family hosted a Bingo Night on Zoom for a senior community! You can also share some fun with your family or housemates at home and take it live online for those live far away or can't get out. So who's up for some Trivial Pursuit?
38. Place a Teddy Bear in Your Living Room Window
This practice went viral as parents were finding fun ways to comfort their children and spread love during these uncertain times. Individuals were asked (via social media, newspaper, you name it!) to place teddy bears in their front windows.
So when families took their children for a car ride for the sake of getting out for a few minutes, they asked the children to count how many bears they saw, what color they were, and so on.
39. (By Phone) Walk Your Parents or Grandparents through Setting up an Online Call
What would we do without our teens and tweens? You and your youngster can spread love and detailed directions for an online communication platform with Gram and Gramps. Not only will they be thrilled to hear your voices but also to see your happy smiles!
40. Take a Car Ride with Someone You Care About
Considering the number of choices of places to go at the moment, one idea is to offer to take a scenic ride with someone you care about. This would be a great opportunity to catch up on life's little details while taking in the view.
41. Cook Dinner with Your Spouse or Significant Other
Are you looking for another Date Night idea? Then you and your spouse or significant other can try duplicating a favorite entrée from your favorite restaurant or look up a cool, new recipe together.
Cooking together is a romantic (and yummy) way to bond together and take a break from work for the evening.
42. Using a Kid-Friendly Recipe, Make the Cooking Adventure a Family Activity
Of course, the whole family can join in if you like. Believe it or not teaching your kids some independent living skills, especially cooking, can be a fun and humorous undertaking. Also, try asking your kids to choose which recipe they would like to try.
43. Set Up a Lemonade Stand—And Donate the Proceeds to Charity
This is a good way to bring some sweet cheer to your neighborhood while also helping a charity that means a lot to you. If you want to double your proceeds, try offering tea or punch. Perhaps this charitable, entrepreneurial venture might catch on elsewhere.
44. Camp Out in the Back Yard
Camping is a fun activity to do with your friends, family, or significant other. However, if you don't want to travel far, you can camp in the backyard! The location, while still the part of the great outdoors, might be more ideal because if there's an emergency, your home is just a few feet away.
45. Offer to Walk the Neighbor's Dog
Perhaps your neighbor is not able to get out as often or maybe there are days when the weather is not ideal for stepping out, but their beloved pet still needs some exercise.
You can always offer to walk Fido. In this manner, you're providing some company for the pet, and afterward, some friendly conversation with your neighbor.
46. Offer Free Car Wash/Maintenance to Someone in Need
You might see someone on the side of the highway with their hood open and looking rather confused at the contents within. Or perhaps you know of someone who's homebound or a single parent who's had car trouble in the past.
If you have some mechanic's skills, you can help change a flat tire or a spark plug. If the problem is beyond your expertise, you can always offer them a tow to the nearest shop.
47. Create a Neighborhood Co-op Garden
This cooperative venture is catching on quickly both in urban and suburban areas. Creating a neighborhood garden is also a great way to bring people together and get to know one another. Plus, everyone has delicious organic food and without going far to get produce.
48. Offer Free Tutoring or Tech Help to Someone
With the shut-down of schools and universities, students suddenly had to navigate through virtual lessons and online studies. You can ease the case of nerves by offering some assistance with a challenging course or for those who don't feel confident in their tech skills, you can walk them through the different features of a platform.
With so many independent publishing options, you can compile all of your favorite recipes into an online or hard-copy cookbook. This would make a wonderful gift for newly-weds or even graduates who are now venturing out on their own.
Another fun twist is to collaborate with the experienced cooks of your family and preserve their recipes for generations to come.
50. Host a Virtual Dance Party
Join up with all your friends and family on Skype, Zoom, Facebook Live or any other
platform of your choice. You can crank up the tunes and get a little bit of exercise in.
Even separately, we can all still boogie together.